Windy City

Image © Zynga
Goal Information
Requirements
 Level 46
Release Date
December 1, 2011
Description
I'm gonna take this petition door to door and then I'm gonna show City Hall we mean business!
Mission from
Farmer Rita
Tasks
Collect Rent from 40 Residences
( 60 Cash)
Ask for 12 signed Petitions
( 36 Cash)
Collect from City Hall 2 times
( 10 Cash)
Rewards
XP
 125 XP
Energy
 15 Energy
Goal Completion
Description
All those signatures are proof that a Wind Farm is what this city needs right now!
Questline

Windy City is one of the goals in CityVille.
Rita says: "I think those hills would be a great place for a Wind Farm! You can never have enough renewable energy!"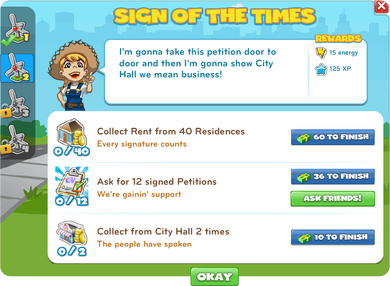 Ad blocker interference detected!
Wikia is a free-to-use site that makes money from advertising. We have a modified experience for viewers using ad blockers

Wikia is not accessible if you've made further modifications. Remove the custom ad blocker rule(s) and the page will load as expected.