See also: Wedding Hall 2, Wedding Hall 3
The Wedding Hall is a 3x3 sized community building available in CityVille. It unlocks when the player reaches level 5. It costs 1,250 coins, 5 energy, and 6 Staff Members or 1 City Cash each to build. When completed, your population cap is increased by 70. Collecting rent from it earns 250 coins, which is unaffected by payout boosts from decorations.
It was originally called the Wedding Chapel, but for unknown reasons, it's graphic and name were changed.
Harvesting Bonuses
Edit
| Chance | Reward |
| --- | --- |
| 100% | 5× 50 Coins |
| Chance | Reward |
| --- | --- |
| 50% |  1 XP |
| 50% |  2 XP |
Justice of the Peace
Witness
Ring Bearer
Maid of Honor
Best Man
Wedding Planner
Old Wedding Hall
Edit
The wedding hall design was changed for an unannounced reason, it was possibly decided to keep the religious aspect of the hall out of the game. This may also be the reason they changed the name from "chapel" to "hall". Those who had already built an original Wedding Chapel retain the look, but mousing over it reveals the name Wedding Hall.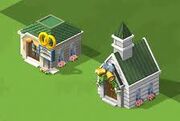 Ad blocker interference detected!
Wikia is a free-to-use site that makes money from advertising. We have a modified experience for viewers using ad blockers

Wikia is not accessible if you've made further modifications. Remove the custom ad blocker rule(s) and the page will load as expected.