Venetian Palace
Comments

44
8,492pages on
this wiki

The Venetian Palace is a 5x5 landmark in CityVille. It can be placed from the

 Venetian Celebration! Goal. It can be placed on land or in the water.
It is the second of the three buildings to be completed in unlocking the Great Pyramid (see also Build The Great Pyramid Wonder!).
Completing it allows 6550 more population, Earns

 1000 Coins when used and gives a 10% payout bonus to any nearby residence and business.
Completion
Edit
Players may have tasks checked off or skip for

 0 Cash without meeting the requirements. This may be a glitch or apply to only some people.
MaterialsEdit
Gather parts to unlock Venetian Palace

 240 Cash to buy all
Master BusinessEdit
Upgrade one Italian Business to 2 Stars

 120 Cash to skip
Master CropEdit
Master one Italian Crop to 3 Stars

 180 Cash to skip
Warning: if being charged 0 you will risk spending 180 cash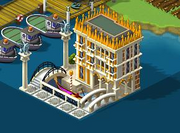 Collecting Bonuses
Edit
| Chance | Reward |
| --- | --- |
| 100% | 10×  100 Coins |

| Chance | Reward |
| --- | --- |
| 50% |  1 XP |
| 50% |  2 XP |
| Direction SW | Direction SE | Direction NE | Direction NW |
| --- | --- | --- | --- |
| | | | |