Upgrade Your Silos!
Comments

3
8,521pages on
this wiki
Upgrade Your Silos!

Image © Zynga
Goal Information
Requirements
 Level 15
Description
Your silos want a little upgrade love, too! Let's upgrade them so you can store more goods in them as well!
Mission from
Farmer Rita
Tasks
Upgrade 2 Silos to Level 3
( 100 Cash)
Unload 40 Paris Parcels ships
( 200 Cash)
Collect from 80 Businesses
( 120 Cash)
Rewards
XP
 200 XP
Goal Completion
Description
These silos were already a good place to store goods. But now they're a great place to store goods!
Questline
Upgrade Your Silos! is a goal in CityVille.
Farmer Rita says: "The Sticks storage building has been upgraded but we're not going to stop there! Let's upgrade your silos, too!"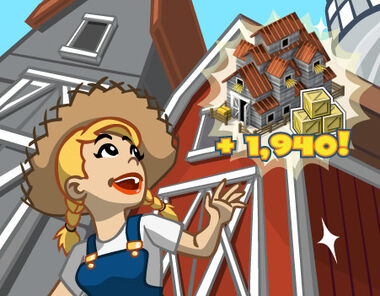 City is stepping up its storage!


Player excitedly upgraded their Silos and said, "Say silo to my not so little friend!" No one has any idea what that means.