Upgrade Cruise Ships
Comments

10
8,556pages on
this wiki
Upgrade Cruise Ships

Image © Zynga
Goal Information
Requirements
 Level 20
Release Date
January 13, 2012
Description
Cruise lines are expanding their routes and want to include your city but the City Port isn't big enough!
Mission from
Dan
Tasks
Have an upgraded City Port (level 2 or greater)
Send and Unload 10 Cruise Ships on the Alaskan Route
( 50 Cash)
Send and Unload 10 Cruise Ships on the Caribbean Route
( 50 Cash)
Rewards
Item
 Customs Office
Goal Completion
Description
Great job! You really are the authority on the right way to upgrade your City Port!
Questline
Upgrade Cruise Ships is a goal in CityVille.
Dan says: "Cruise lines are bidding for dock space in your city! Let's make some room so all the ships will fit!"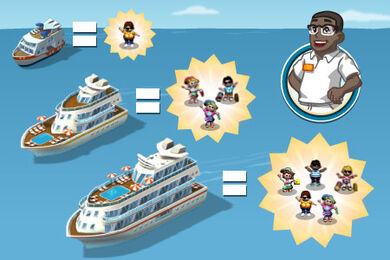 City is running a tight ship and upgrading their City Ports!


Player was excited to drop anchor at the new City Port today. So excited that they dropped it on their foot instead of into the water.