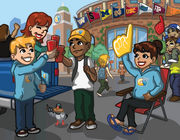 Universities is a feature introduced in CityVille on October 3rd, 2011. It is available to players at

 Level 10+. Items can be purchased in the Build Menu under "Themes" in the Universities tab.
Only the Student Center is unlocked for purchase in the Build Menu. All other items will be unlocked after completing the Student Center. The first Student Center is free to place from the
 Get Smart! Goal.
Community Buildings
Edit
Decorations
Edit
After completing a building or placing a decoration, a logo menu will appear.
**NOTE: Unlocking a logo with City Cash will allow you to use this logo with any other building/decoration of the SAME type, but not with buildings/decorations of different type. For example, unlocking a logo for the Student Center will allow you to use it for any other Student Center, but if you wish to use it for a College Dorm you would have to unlock it with City Cash for a College Dorm.
Each logo costs

 10 Cash except for the default CVU logo.

CVU
Default

The University of Alabama

University of Arkansas

Auburn University

Boise State University

Boston College

Brigham Young University

University of California: Berkeley

Clemson University

University of Colorado

Cornell University

East Carolina University

University of Florida

Florida State University

Georgia Tech

The University of Illinois

The University of Kansas

The University of Kentucky

Kansas State University

University of Louisville

Louisiana State University

University of Maryland

University of Miami

The University of Michigan

Michigan State University

University of Minnesota

University of Missouri

University of Notre Dame

University of Nebraska

The University of Oklahoma

The Ohio State University

Oklahoma State University

Oregon State University

University of Pittsburgh

Purdue University

Rutgers University

University of South Carolina

University of South Florida

Stanford University

Syracuse University

University of Tennessee

Texas A&M University

Texas Christian University

Texas Tech University

University of Connecticut

University of Washington

University of Southern California

University of Utah

Washington State University

University of Wisconsin

West Virginia University