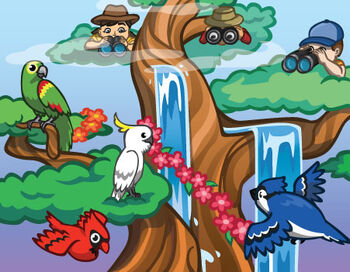 Building the Tree of Life begins with the goal

 Make the Tree of Life Flourish! The in-game menu that allows collecting birds is called Grow the Tree of Life! A related goal

 For The Birds! gives you a Bird Sanctuary that helps collect birds every 18 hours.
All Nature Buildings can receive 3x the listed percentage boost from the Tree, for a maximum of 300% at Level 6. When collected from, the Nature Buildings have a chance of dropping the birds needed for upgrades. You can also request a (random) bird every 2 hours, and get them from friends off the wall feed.
Removal returns it to your Inventory, but you'd likely have to rebuild the whole thing. Note that every time you upgrade your tree, your bird collection will be reset. (If you have three flamingos and you only need two, you will also lose the third.)
HINT: Make sure you have the rarest 3 birds on your Wishlist at all times. This gives you much better odds through clicking your neighbor's feed items. Be certain you have all 3 on your Wishlist right before you go up a level, or you will lose time getting them back on it.
Also visit Zynga's Tree of Life Guide
According to Zynga this goal will end in 31 days, starting from April 28, 2012.