Tourist Attraction!
Comments

0
8,553pages on
this wiki
Tourist Attraction!

Image © Zynga
Goal Information
Requirements
 Level 30
Release Date
January 26, 2012
Description
Let's lay out the welcome mat for the tourists! They're going to be blown away by this beautiful castle!
Hints
Complete all 3 goals to earn the Baroque Fountain decoration.
Mission from
Vance
Tasks
Send 50 Tour Buses in Neighboring Cities
( 75 Cash)
Collect 20 times from the Venetian Mask Shop
( 30 Cash)
Increase population by 400
( 30 Cash)
Rewards
Item
 Baroque Fountain
Goal Completion
Description
It was quite the hassle getting this castle ready but it was all worth it! As we expected, everyone loves it!
Questline
Tourist Attraction! is a goal in CityVille during the Italian Event.
Vance says: "Now that the thieves are behind bars, let's convince tourists that everything's back to normal at the castle!"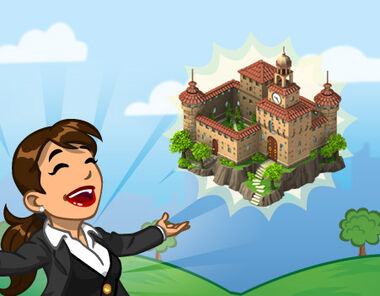 City is itching to visit the new Italian Castle!


Player was very impressed with the design of the Italian Castle, especially since they've designed a few themselves. Well, sand castles. Still counts, though.