Tonga Tower!

Image © Zynga
Goal Information
Requirements
 Level 30
Release Date
September 6, 2011
Description
Complete the Tonga Tower, CityVille's most amazing restaurant, to get one step closer to unlocking the Eiffel Tower!
Mission from
Edgar
Tasks
Place Tonga Tower
Rewards
XP
 2 XP
Questline

Tonga Tower! is one of the goals in CityVille.
Only requires

 Level 30. Completion of the Sailboat Hotel is not required to start this.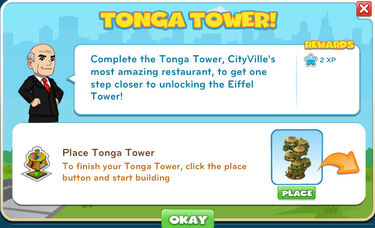 City is starting to build the all new Tonga Tower!


Player is looking forward to the challenge of finishing the Tonga Tower and opening it up to their excited citizens!
Ad blocker interference detected!
Wikia is a free-to-use site that makes money from advertising. We have a modified experience for viewers using ad blockers

Wikia is not accessible if you've made further modifications. Remove the custom ad blocker rule(s) and the page will load as expected.