Terraced Brownstone
Comments

6
8,527pages on
this wiki
The Terraced Brownstone is a 3x3 sized Housing item available in CityVille. It unlocks when the player reaches

 Level 10.
It costs

 2,500 Coins and takes

 4 Energy to build. Once built, it increases your city's population by

 70 Population. Rent can be collected every 8 hours and earns

 150 Coins. When collecting rent, this building has a chance to give collectibles towards the City Life Collection, and has a 20% chance of dropping

 Shrink Charges.
This Apartment can be stored in the following Neighborhoods:
Terraced Brownstone needs to be built to be able to finish the goal
 Little Italy.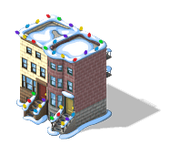 Collecting Rewards
Edit
| Chance | Reward |
| --- | --- |
| 85% |  1 XP |
| 15% |  2 XP |
| Direction SW | Direction SE | Direction NE | Direction NW |
| --- | --- | --- | --- |
| | | | |
Remodeling
Edit
For more information: Remodeling
Image
Name
Cost
Population
Payout
Unlock
Energy
Terraced Brownstone
 2,000 Coins
 70–130 Population
 150 Coins
every
8 Hours
/
 4 Energy
Brick Terraced Brownstone
 2,750 Coins
/
Blue Terraced Brownstone
/
Bubble Gum Terraced Brownstone
/
Red Striped Terraced Brownstone
/
Fancy Terraced Brownstone
 3,750 Coins
/
Silver Terraced Brownstone
 5,000 Coins
 80–150 Population (+14%)
/
 8 Energy
Crystal Terraced Brownstone
 5,500 Coins
 140–260 Population (+100%)
 15 Cash
Gold Terraced Brownstone
 7,500 Coins
 100–170 Population (+43%)
/
Platinum Terraced Brownstone
 10,000 Coins
 110–200 Population (+57%)
/
Medieval Terraced Brownstone
 12,500 Coins
 210–390 Population (+200%)
 20 Cash
Mushroom Terraced Brownstone
 25,000 Coins
 280–520 Population (+300%)
 25 Cash