Surf's Up!

Image © Zynga
Goal Information
Requirements
 Level 15
Description
I want this film to be really authentic. So, I'm going to open my very own Surf 'n Shop to get a feel for the world.
Mission from
Bella Bennett
Tasks
Place Surf 'N Shop
Complete Surf 'N Shop
Rewards
Goods
 800 Goods
Questline
Surf's Up! is a Goal available in CityVille.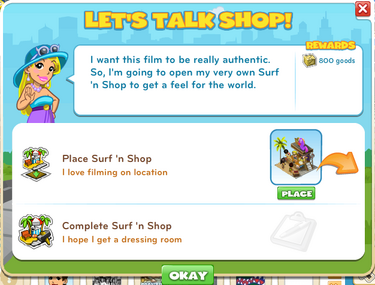 City is holding its breath in anticipation of its new Snorkelers!


Player came face to face with a great white shark today while snorkeling. Luckily, the shark was an inflated toy.
Ad blocker interference detected!
Wikia is a free-to-use site that makes money from advertising. We have a modified experience for viewers using ad blockers

Wikia is not accessible if you've made further modifications. Remove the custom ad blocker rule(s) and the page will load as expected.