The Super Solar Neighborhood is a 5x5 neighborhood in CityVille. It can be placed from the

 Save Your Energy! goal.
According to its description it can store "all types of housing". Despite this description, it does not accept Modern / Custom Houses, or Skyscrapers. It should be able to accept Downtown Housing.
Currently only one Super Solar Neighborhood can be owned. Removing this item will send it to your inventory. It cannot be placed downtown.
One building material, the Gold Bulb can be found by harvesting Solar Buildings.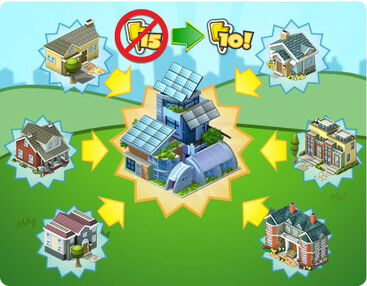 Upgrades
Edit
Zynga's Guide to the Super Solar Neighborhood