Start Your Engines! (Cars)

Image © Zynga
Goal Information
Requirements
 Level 27
Release Date
November 28, 2011
Description
If people start driving, they're going to need to get their cars tuned up. Complete the Garage to bring cars to your city!
Mission from
Samantha
Tasks
Place and Complete Garage
Supply 30 Businesses
( 60 Cash)
Collect 15 Car Payouts
( 30 Cash)
Rewards
Item
5 Family SUVs
Goal Completion
Description
If anyone has a flat tire, you can have my spare. It's hanging from a tree in my yard. It makes a great swing!
Questline

Are you looking for:

 Start Your Engines! timed goal?
Start Your Engines! is a goal in CityVille.
Sam says: "It's time to bring cars to your growing city! The more buildings on your roads, the better the car payouts!"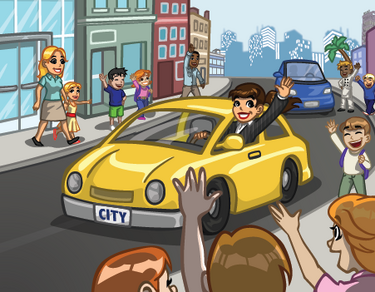 Task 1 Hint: Complete the Garage to see cars in your city.
Task 2 Hint: After completing the Garage, supply businesses to see cars in your city.
Task 3 Hint: Click on cars to collect coins.
City is getting a tune up at the new Garage!


Player spent all day at the Garage. Mainly, because they got a job there doing oil changes.
How a car looks like
Edit
A small car appears at the corner of your businesses.
Ad blocker interference detected!
Wikia is a free-to-use site that makes money from advertising. We have a modified experience for viewers using ad blockers

Wikia is not accessible if you've made further modifications. Remove the custom ad blocker rule(s) and the page will load as expected.