Special Offers are offers to get special deals on items in CityVille. These may be offered for a limited time.
Buy 2 Get 1 Free
Edit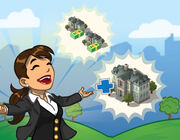 Starting on September 21, 2011, when you purchase 2 of the same specially marked buildings, you will get 1 free in your inventory.
Available to players

 Level 10+.
Businesses
Edit
Ad blocker interference detected!
Wikia is a free-to-use site that makes money from advertising. We have a modified experience for viewers using ad blockers

Wikia is not accessible if you've made further modifications. Remove the custom ad blocker rule(s) and the page will load as expected.