---
See also: Solar Mall and Solar Mall 2
The Solar Mall 3 is a 8×4 business storage building available in CityVille. The Solar Mall 3 can store and produce revenue from up to 15 stores at once. It has the added bonus of requiring less energy when collecting from a large group of stores inside it. It will store any business that the original Mall does. Which is almost all of them.
The third level gives a total 15% payout bonus to the businesses stored in it. Visiting neighbors clicking on the mall will each add another 5% payout, up to 15%. It has a storage capacity of 5 businesses, making a of total 15 slots.
It works just like the Mall and is affected only by mall decorations.
This mall is first given for free as part of the

 Saving Energy goal.
Materials Edit
Gather parts to complete your Solar Mall

 ?? Cash to Buy All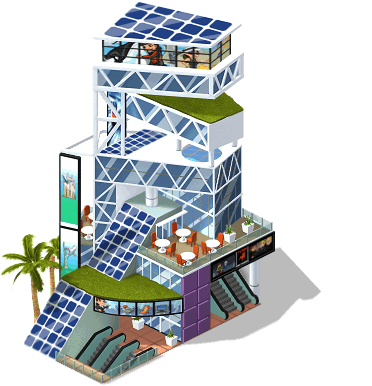 Ad blocker interference detected!
Wikia is a free-to-use site that makes money from advertising. We have a modified experience for viewers using ad blockers

Wikia is not accessible if you've made further modifications. Remove the custom ad blocker rule(s) and the page will load as expected.