Snowball Fight!

Image © Zynga
Goal Information
Requirements
 Level 50
Release Date
November 25, 2011
Description
Our snow fort is impenetrable! Go ahead, take your best shot at the Stumpfords! We dare you!
Mission from
The Stumpfords
Tasks
Collect Rent from 50 Neighbor Residences
( 75 Cash)
Gather 14 Snowballs
( 105 Cash)
Ask for 16 Mittens
( 48 Cash)
Rewards
Goal Completion
Description
Even though we're enemies in the snowball fight doesn't mean we can't be friends! Let's call a truce!

Snowball Fight! is one of the goals in CityVille.
Stumpford Dad says: "The family that plays together stays together! Let's have a snowball fight!"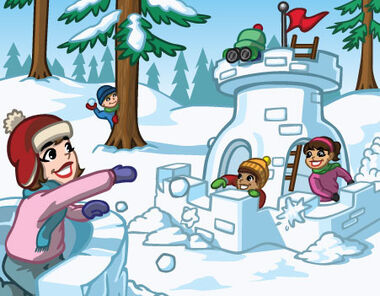 Task 2 Hint: Snowballs can be rewarded from housing rent collections in your City. Neighborhoods will also drop snowballs.
(completed within 48 hours)
(completed within 96 hours)
(completed within 96+ hours)
City is taking aim at the Snowball Fight!


Player won the snowball fight. Actually, everyone else never had a snowball's chance in...well, you get the idea.
Ad blocker interference detected!
Wikia is a free-to-use site that makes money from advertising. We have a modified experience for viewers using ad blockers

Wikia is not accessible if you've made further modifications. Remove the custom ad blocker rule(s) and the page will load as expected.