The Skyscraper Condos is a 4x4 sized Housing item available in CityVille.
It costs

 80,000 Coins and

 8 Energy to build. Once built, it increases your city's population by
 300 Population. Rent can be collected every 4 hours and earns

 105 Coins. When collecting rent, this building has a chance to give collectibles towards the Jet Setter Collection.
The Skyscraper Condos used to be the tallest item in the game.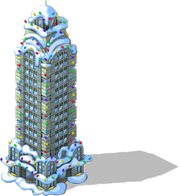 Collecting Bonuses
Edit
| Chance | Reward |
| --- | --- |
| 85% |  1 XP |
| 15% |  2 XP |
Cost and Efficiency
Edit
The Skyscraper Condos is one of 4 "original" residences that you can collect from every 4 hours.
Of the four, it has the highest earnings along with the Courtyard House. except that the Courtyard House is bigger (5x5), costs city cash to buy and holds 150 less population (The Skyscraper Condos holds 300 population) The Courtyard House could earn a larger decoration bonus than the Skyscraper Condos, but the Skyscraper Condos will save you some space and holds a larger population. Spending City Cash will save you quite a bit of coins, but city cash is a more limited resource to most people where as coins can always be earned back.
Compared to the Family Townhouse, the Skyscraper Condos collects 5 more coins every four hours and houses 15 times more residents. While the Skyscrapper Condos will save you space compared with the family townhouse, you will be earning less coins per citizen housed. Unfortunately, the Skyscraper Condos cost 500,000 coins, while the Family Townhouse costs only 400 coins.
The Bay Point Duplex was between the Skyscraper Condos and the Family Townhouse in earnings, number of residents housed, and price. While holded 70 less residents and collected 3 less coins every four hours, it still costed much less than the Skyscraper Condos.
The Skyscraper Condos is also one of the few residences that gives the Jet Setter Collection which can be traded in for the Tuxedo Rental. Compared to the other residences that drop the Jet Setter Collection, the Skyscraper Condos does not require you to reach a certain level to build it and is cheaper than the Glass Condos and the Atrium Lofts . Coupled with the Tuxedo Rental if you sell before construction, it adds another 10,000 Coins to the profit of the Skyscraper Condos, making the residence profitable quicker if you play profitability and wealth over building a good looking city that you can adore, albeit not being that profitable.
Ad blocker interference detected!
Wikia is a free-to-use site that makes money from advertising. We have a modified experience for viewers using ad blockers

Wikia is not accessible if you've made further modifications. Remove the custom ad blocker rule(s) and the page will load as expected.