Seeing Red

Image © Zynga
Goal Information
Requirements
 Level 60
Release Date
May 27, 2012
Description
There's the red carpet! The limo's pulling up so I can make my big entrance! I'm going to blow people's minds!
Mission from
Salvador
Tasks
Harvest Level 3 Venetian Restaurant 20 times
( 100 Cash)
Supply 30 Premium Businesses
( 60 Cash)
Have a Level 3 Mirror Heights
( 80 Cash)
Rewards
Item
 SUV Limo
Goal Completion
Description
The Red Carpet Gala was amazing! Now if only I could wake my driver up from his backseat nap so I can go home!
Questline
Seeing Red is a Downtown and normal city goal in CityVille.
Salvador says: "It's time for me to finally make my big entrance at the Red Carpet Gala! The limo driver and I are ready to roll!"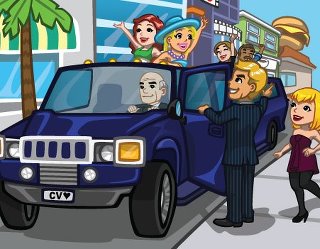 City is making quite the entrance at the Red Carpet Gala!


Player wanted to arrive at the Red Carpet Gala in a stretch limo but it was just too expensive. Luckily, they convinced 28 of their friends to chip in on the rental fee.