See The Coliseum!

Image © Zynga
Goal Information
Requirements
 Level 11
Release Date
November 6, 2011
Description
We're so lucky that a marvel such as the Coliseum is still intact! Let's make sure every citizen gets a chance to see it!
Hints
The Coliseum needs a home where it can stand the test of time. I want your city to make history today!
Mission from
Samantha
Tasks
Place Coliseum
Complete Coliseum
Rewards
Coins
 20,000 Coins
Goal Completion
Description
I wish I could have seen this place in its heyday. I guess I should get to work on building a time machine!

See The Coliseum! is a goal in CityVille.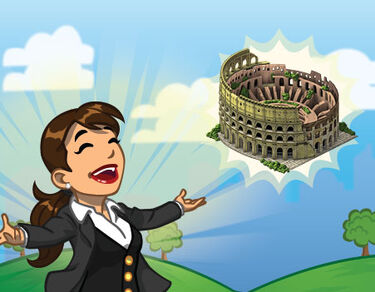 City is making ancient history with the Coliseum!


Player came to the opening of the Coliseum dressed as a gladiator. Unfortunately, they weren't allowed to bring their plastic sword with them.
Ad blocker interference detected!
Wikia is a free-to-use site that makes money from advertising. We have a modified experience for viewers using ad blockers

Wikia is not accessible if you've made further modifications. Remove the custom ad blocker rule(s) and the page will load as expected.