This goal has been removed.
Scream Acres!

Image © Zynga
Goal Information
Requirements
 Level 10
Release Date
November 3, 2011
Description
Now that Halloween is over, build a neighborhood to store your spooky stuff and for the monsters to live in year round!
Mission from
Vlad The Vampire
Tasks
Place Scream Acres Neighborhood
Rewards
Coins
 1,000 Coins
Goal Completion
Description
Now that the monsters have moved in, I'd like to give them all a welcome casket. It's the least I can do.

Scream Acres! is one of the Goals in CityVille. It was released on November 3, 2011.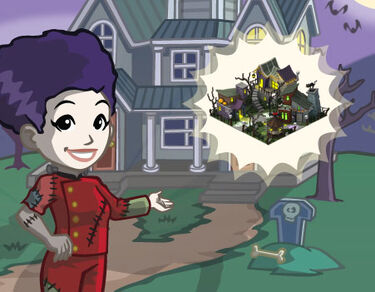 Ad blocker interference detected!
Wikia is a free-to-use site that makes money from advertising. We have a modified experience for viewers using ad blockers

Wikia is not accessible if you've made further modifications. Remove the custom ad blocker rule(s) and the page will load as expected.