Say Hello to Tokyo!
Comments

20
8,480pages on
this wiki
Say Hello to Tokyo!

Image © Zynga
Goal Information
Requirements
 Level 30
Description
It didn't take me long to figure out how to use what I saw in Tokyo's architecture in my own designs!
Mission from
Frank The Architect
Tasks
Collect from 30 Skyrise residences
( 60 Cash)
Ask friends for 15 Origami Buildings
( 60 Cash)
Collect 15 City Sketches from Community Buildings
( 45 Cash)
Rewards
XP
 15 XP
Coins
 2,000 Coins
Goal Completion
Description
I take as much pride in my sketches as I do in my buildings! My Japanese heritage has instilled that in me!
Questline
Say Hello to Tokyo! is a Downtown, Lakefront, Alps, and normal city goal in CityVille. It is the second goal of Act 2: Part 1 of the

 Welcome The World! Saga.
Frank The Architect says: "I took a semester to study abroad in Tokyo and it really inspired me to become an architect! I love all the skyrises!"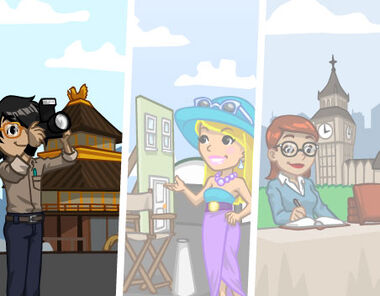 City is welcoming Japan to their city!


Player absolutely loves doing karaoke. And their friends absolutely love covering their ears while it's happening.