Save the Children is an internationally active non-governmental organization that enforces children's rights, provides relief and helps support children in developing countries.
Save the Children and Zynga's CityVille collaborated to raise funds and provide relief to disaster victims through the sale of cash crops.
100% of the purchase price of every plot went towards the Relief Fund.
Earthquake Relief Fund
Edit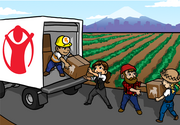 Earthquake Relief Fund: Japan (March 2011)
Tornado Relief Fund
Edit
Tornado Relief: Southern U.S. (May 2011)
Supporters
Edit
Ad blocker interference detected!
Wikia is a free-to-use site that makes money from advertising. We have a modified experience for viewers using ad blockers

Wikia is not accessible if you've made further modifications. Remove the custom ad blocker rule(s) and the page will load as expected.