Save Energy!

Image © Zynga
Goal Information
Release Date
April 1, 2011
Description
You've got 30 seconds to catch as many Energy Bandits as you can!
Hints
Sorry to say, you need a road to play!
Mission from
Sam
Tasks
Catch the Energy Bandits
Rewards
Coins
 30 Coins
Energy
 1 Energy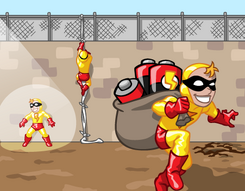 Save Energy! is one of the limited edition Goals in CityVille. It was released on April 1st, 2011. It is the April Fool's day goal from Zynga and is no longer available, as of April 4th, 2011.
| | |
| --- | --- |
| | Catch the Energy Bandits |
Major sparks in City as Player catches Energy Bandits!


Player earned lots of energy by catching Energy Bandits in their city! City is now safe until next time!
Ad blocker interference detected!
Wikia is a free-to-use site that makes money from advertising. We have a modified experience for viewers using ad blockers

Wikia is not accessible if you've made further modifications. Remove the custom ad blocker rule(s) and the page will load as expected.