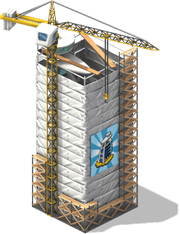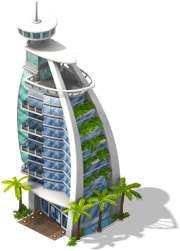 The Sailboat Hotel is a Hotel in CityVille. You receive it from the

 Hoist Your Sail! goal, which appears if you are

 Level 30 or over. Supplying it consumes 600 goods. Collecting from it earns 2,928 coins, which gives it an efficiency of 4.88 coins per good. It is one of the three hotels required to unlock the Eiffel Tower Wonder..
The Sailboat Hotel resembles the Burj Al Arab in Dubai.
Removal will place this in your inventory. You will have to recollect all the items and rebuild it when you place it back in your city.
ConstructionEdit
See also: Build The Eiffel Tower Wonder!
MaterialsEdit

 238 Cash to buy all
Upgrade Summer BusinessEdit
Upgrade one Summer Business (Ice Cream Parlor, Bike Shop or Sunglasses Store) to Level 2
Requires 50 Harvests
Tip: Ice Cream Parlor needs the least supplies (70 goods)
Note: You may need to refresh (exit and re-enter) game session after upgrading.

 80 Cash to skip
Master Summer CropEdit
Master one Summer Crop (Corn, Eggplant or Watermelon) to Level 2
Requires 50 Harvests
Tip: Eggplant takes the quickest time to grow (1 hour)

 120 Cash to skip
Rewards on CollectingEdit
| Chance | Reward |
| --- | --- |
| 100% |  2928 Coins |
| Chance | Reward |
| --- | --- |
| 85% |  1 XP |
| 15% |  2 XP |
VIP Floor Rewards
Edit
Floor 2 Rewards
Edit
The payout can´t be increased by normal decorations it can only be increased by some decorations like Badminton or Table_Tennis
Ad blocker interference detected!
Wikia is a free-to-use site that makes money from advertising. We have a modified experience for viewers using ad blockers

Wikia is not accessible if you've made further modifications. Remove the custom ad blocker rule(s) and the page will load as expected.