Rescue Doggies!

Image © Zynga
Goal Information
Requirements
 Level 50
Release Date
October 11, 2011
Description
I think your city needs a Doggie Rescue Center to help pets find their way home!
Mission from
Sam
Tasks
Place Doggie Rescue Center
Complete Doggie Rescue Center
Rewards
Coins
 1,000 Coins
Goal Completion
Description
Oh, I love dogs so much! Now I can rest easy knowing that the Doggie Rescue Center is looking out for them!

Rescue Doggies! is one of the goals in CityVille.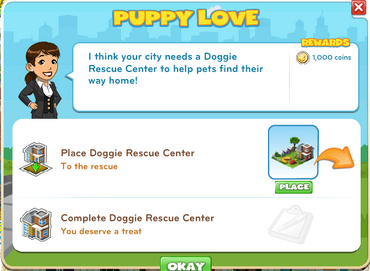 Ad blocker interference detected!
Wikia is a free-to-use site that makes money from advertising. We have a modified experience for viewers using ad blockers

Wikia is not accessible if you've made further modifications. Remove the custom ad blocker rule(s) and the page will load as expected.