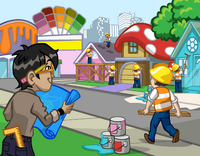 Remodeling is a feature in CityVille that allows players to give residences a brand new look and upgrade their stats. This feature is activated by receiving the

 Remodel Citizen Goal and placing & completing the Remodel HQ Building. This is for players at

 Level 15+.
How To Remodel
Edit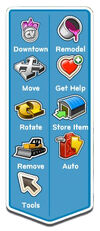 1. Click on the Remodel Tool and the houses available to remodel will have the paint bucket icon above it.
2. When you click on one of those houses, the Remodel Menu will appear.


3. Pick a new appearance for your chosen residence. Some of these options will increase certain stats for that residence. Some will also require City Cash or complete goals to unlock.
4. The housing will be surrounded by scaffolding and require a certain amount of energy to finish.
Houses available to remodel
Edit
See also: Full List of options
Q: Will the new appearance be applied to just the one residence I selected, or will this change all the residences of this type?
A: When you remodel a residence you are remodeling just that one residence.

Q: If I unlock a design with City Cash can I use it as much as I like?
A: Yes, once you unlock a design with City Cash, for a specific type of residence, you will be able to use it like any of the other designs.

Q: If I remodel my residence with a design that will increase the population for that residence, will I lose that population increase if I ever remodel it back to the way it was or with another design with a lower population?
A: Yes you will, once the population for a specific house has been increased it will decrease through remodeling.