Raised Expectations
Comments

0
8,553pages on
this wiki
Raised Expectations

Image © Zynga
Goal Information
Description
Your Downtown is growing extremely fast!
Mission from
Sam
Tasks
Collect from 75 Downtown Residences
( 75 Cash)
Send 400 Trucks
( 45 Cash)
Supply 5 Premium Businesses
( 10 Cash)
Rewards
Coins
 200,000 Coins
Energy
 10 Energy
Goal Completion
Description
Your Downtown is going to be bigger and better than I thought! I think you deserve a raise!
Questline
Raised Expectations is a Downtown goal in CityVille. It requires you to be at least Level 60.
Sam says: "Let's send some trucks out and deliver some premium goods to businesses in your Downtown!"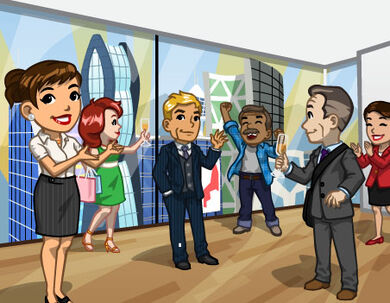 City is decking out its new Downtown!


Player loves commuting to their new job Downtown. They pretend to listen to music on their earphones but instead eavesdrop on the arguments of strangers on the bus.