Rain Is Here!

Image © Zynga
Goal Information
Release Date
May 8, 2012
Description
Weather has arrived in CityVille. Build the Weather Forecasting Tower to get bonuses from rain!
Mission from
Sam
Tasks
Place & Complete the Weather Forecasting Tower
Supply a total of 5 umbrellas to your Citizens
( 40 Cash)
Harvest 10 crops while it's raining
( 40 Cash)
Rewards
Coins
 3,000 Coins
Goods
 100 Goods
Goal Completion
Description
You are going to love the weather in CityVille. It rains bonus coins and goods!
Questline
Rain Is Here! is a goal in CityVille.

Note: Due to a glitch, collecting any crops will complete this goal, however, it will not display the Weather Has Never Felt Better! goal. This goal will reappear when you relog the game though so you can complete it properly.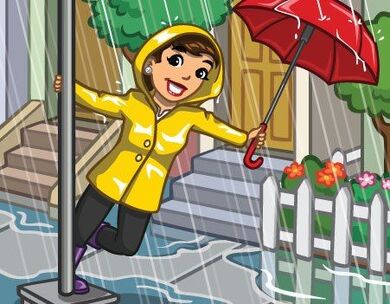 Rain is here in City!


Player is sharing their reward for getting rain in City!