The Quest Manager appears when you have more than 4 goals (aka quests or missions) at one time. Four goals will display on the left side of your screen and the rest will be viewable and grouped inside the Quest Manager. As of January 16, 2012, the ability to scroll and hide goals were added.
Clicking the icon (as seen on the above right) will open it up. Hovering over a goal will give you more information about it. Clicking on a goal will move that goal to the top of the queue on the left sidebar.
If you have more than 16 active quests in your Quest Manager, you will have the ability to scroll through your quests.
There are two tabs, "Active Quests" and "Hidden Quests".
Active Quests are quests you wish to see and work on, while Hidden Quests are quests that you do not want to appear visible.
*Note: Completing a requirement for a "Hidden Quest" will still register with that quest and you don't have to move quests out of the quest manager in order to complete them.
To add a quest to your "Hidden Quests" tab, look through the "Active Quests" tab to find quests you may want to hide. If a quest is hideable, then it will have a red "X" next to it. To make the quest appear hidden click the red "X".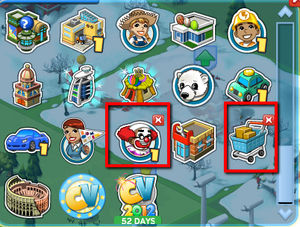 If you want to unhide the goal, simply click on that goal icon and it will re-appear in the "Active Quests" tab.
Ad blocker interference detected!
Wikia is a free-to-use site that makes money from advertising. We have a modified experience for viewers using ad blockers

Wikia is not accessible if you've made further modifications. Remove the custom ad blocker rule(s) and the page will load as expected.