Power Your City
Comments

29
8,560pages on
this wiki
Power Your City

Image © Zynga
Goal Information
Requirements
 Level 50
Description
Build this dam to increase your energy bar (you may have to expand to place it, but you'll get a little extra land once you do!)
Mission from
Jack
Tasks
Place your Dam
Plant 15 crops
( 5 Cash)
Rewards
Goods
 400 Goods
Questline
Power Your City is one of the goals available in CityVille.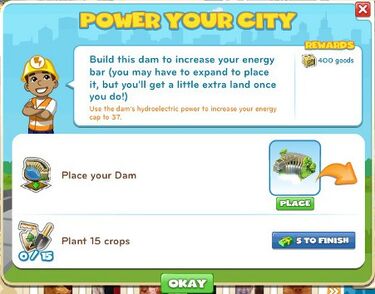 Note: To place your dam you need to expand on the LEFT side of the river. After placing the dam, you will get the right expansion for free.
Player just completed "Power Your City" in Cityville!


Player earned a big reward for their hard work and there's plenty to share with friends.