See also: Post Office 2, Post Office 3
The Post Office is a 4x4 sized community building available in CityVille. It unlocks when the player reaches level 4. It costs 1,000 coins, 5 energy, and 5 Staff Members or 1 City Cash each to build. When completed, your population cap is increased by 50. Collecting rent from it earns 250 coins, which is unaffected by payout boosts from decorations.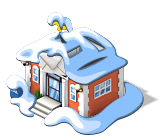 As of the 5th May, 2011 the Post Office can now be upgraded to a level 2, and 3 version. Allowing a larger population cap, more coins and a chance of receiving city seals, and a better chance of receiving energy!
Harvesting Bonuses
Edit
| Chance | Reward |
| --- | --- |
| 100% | 5× 50 Coins |
| Chance | Reward |
| --- | --- |
| 50% |  1 XP |
| 50% |  2 XP |