Passport Office!
Comments

8
8,560pages on
this wiki
Passport Office!

Image © Zynga
Goal Information
Requirements
 Level 15
Description
Complete the Passport Office to earn Passport Stamps that you can trade in for rewards at an Embassy. Embassies are coming soon!
Mission from
Sam
Tasks
Place and complete the Passport Office
Collect 40 Visa Applications from Community Buildings
( 80 Cash)
Collect from Passport Office 5 times
( 25 Cash)
Rewards
XP
 50 XP
Energy
 3 Energy
Goal Completion
Description
Keep collecting from the Passport Office to earn more Passport Stamps! Embassies are coming soon!
Passport Office! is a goal in CityVille.
Sam says: "People from all over the world are excited to finally visit your city! But first, you need to open a Passport Office!"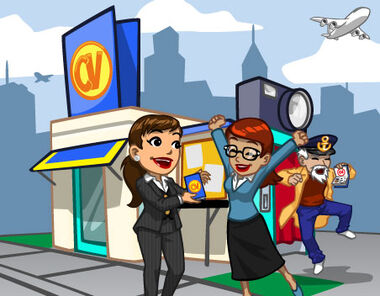 City is welcoming the world with its new Passport Office!


Player was at the Passport Office for hours today taking their passport photo. Mainly, because they decided to bring nineteen different outfits for it.