Parisian Arch!

Image © Zynga
Goal Information
Requirements
 Level 55
Release Date
January 4, 2012
Description
Ah, the Parisian Arch! I never tire of seeing it! I've been a lot of places but this city truly is magical!
Hints
Complete all 3 goals to earn Andre's House
Mission from
Chef Andre
Tasks
Complete Parisian Arch
Collect 40 Paris Parcels
( 200 Cash)
Collect 40 French Pastries from Residences
( 120 Cash)
Rewards
XP
 300 XP
Energy
 15 Energy
Goal Completion
Description
It was so nice to see my mentor at his restaurant today! And it was also nice to see his French bulldog, Fergus!
Questline

Parisian Arch! is a goal in CityVille.
Andre says: "I'm so glad I get to return to Paris for the holidays! I always get homesick this time of year and it will be nice to be back!"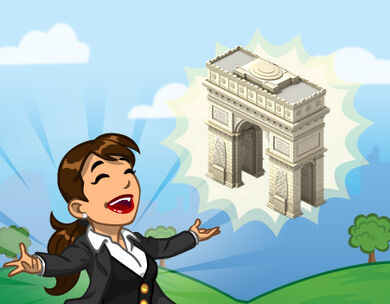 Task 3: Collect from Residences or Neighborhoods for a 70% chance of getting French Pastries. You can also ask your friends.
City is having déjà vu at the Parisian Arch!


Player was excited to see the Parisian Arch today but they were disappointed when they couldn't find the golden arches around lunch time in Paris.
Ad blocker interference detected!
Wikia is a free-to-use site that makes money from advertising. We have a modified experience for viewers using ad blockers

Wikia is not accessible if you've made further modifications. Remove the custom ad blocker rule(s) and the page will load as expected.