The Mystery Gift is a free gift item available in CityVille. It contains various random gifts, including consumables, decorations, building materials and wishlist items. You can send this item to neighbors through the "Free Gifts" tab and receive this as a gift from your friends in your "Inbox". It's possible to win two of the same item from one gift. You can also get Mystery Gifts daily by signing up for the CityVille Daily Email Newsletter.
See also:

 Holiday Mystery Gift,
 Gold Mystery Gift,
 Diamond Mystery Gift,

 Ruby Mystery Gift,
 Treasure Chest,
 Business Gift Box,

 Housing Gift Box,

 Ruby Mystery Gift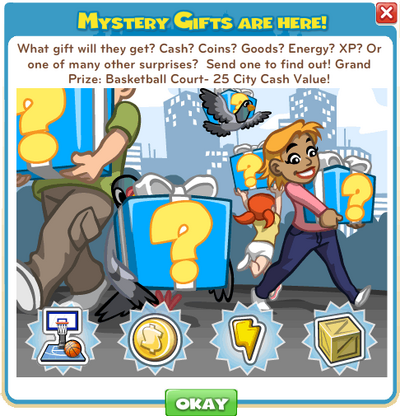 Building
ConsumablesEdit
Building MaterialsEdit
DecorationsEdit
Grand PrizeEdit

Ad blocker interference detected!
Wikia is a free-to-use site that makes money from advertising. We have a modified experience for viewers using ad blockers

Wikia is not accessible if you've made further modifications. Remove the custom ad blocker rule(s) and the page will load as expected.