Not to be confused with Mystery Crate games.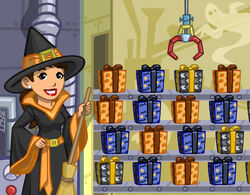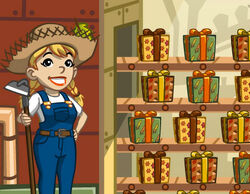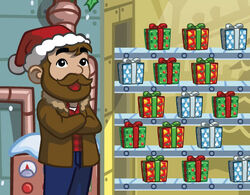 Mystery Games are mini-games in which you can win limited edition mystery prizes. These range from common to rare, and can be decorations, housing or businesses.
You can either start the mystery game from the pop-up you will see when you load the game, from a panel in the build menu, or by navigating to Specials and then the name of the latest holiday/season and selecting the mystery game. Click on "Play Now" (or "Play") to open the Mystery Game menu.
Click on one of the many presents moving across the screen. Prizes are purely random, so the color or shelf the present is on doesn't affect anything. Your first turn is free, but if you want to play again you have to spend Cash for every try. The amount has varied from

 20-30 Cash.
It is possible to win the same item more than once. All items won will be placed in your inventory. Removing these items will return them back to your inventory.
Current and previous Mystery Games:
Edit
Ad blocker interference detected!
Wikia is a free-to-use site that makes money from advertising. We have a modified experience for viewers using ad blockers

Wikia is not accessible if you've made further modifications. Remove the custom ad blocker rule(s) and the page will load as expected.