Moving Up In The World
Comments

3
7,964pages on
this wiki
Moving Up In The World

Image © Zynga
Goal Information
Requirements
 Level 40
Release Date
January 17, 2012
Description
I'm going to invite everyone I know to party with me at the new Platinum Tower! I feel like I'm on top of the world!
Hints
Complete all 3 goals to earn the Water Slide decoration.
Mission from
Dan
Tasks
Upgrade Platinum Tower to Level 3
( 80 Cash)
Collect from 8 Community Buildings
( 40 Cash)
Collect 40 Appetizers
( 80 Cash)
Rewards
Item
 Buffet Restaurant
Goal Completion
Description
I rarely spend time away from my ships but it's kind of nice to be on land for once! The Platinum Tower is awesome!
Questline
Moving Up In The World is a goal in CityVille. This quest may end on February 8, 2012.
Dan says: "I can't believe that I got promoted! Let's celebrate with a party!"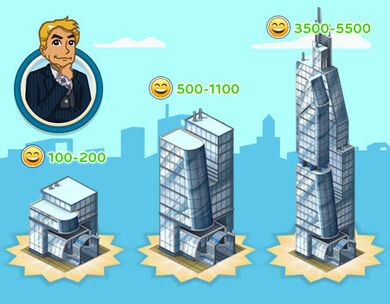 Task 3 Hint: Collect from Residences or Ask Friends.
City is making waves with its Cruise Ship Party!


Player made quite the entrance at the Cruise Ship Party when they entered wearing a life jacket. Apparently, they heard that a jacket was required to get in.