Movin' On Up

Image © Zynga
Goal Information
Requirements
 Level 30
Release Date
September 15, 2011
Description
People are coming from all over to live in your new neighborhood! Well, let's help them settle in!
Mission from
Frank The Architect
Tasks
Unlock Block 2
Fill Block 2
Rewards
Item
 Neighborhood Watch
Questline

Movin' On Up is one of the goals in CityVille.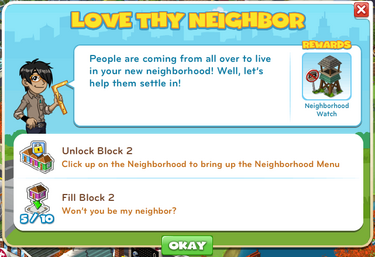 City is movin' on up with their new Neighborhood!


Player has greeted every single new neighbor so far face to face. Well, except for the cats. They're allergic to cats.
Ad blocker interference detected!
Wikia is a free-to-use site that makes money from advertising. We have a modified experience for viewers using ad blockers

Wikia is not accessible if you've made further modifications. Remove the custom ad blocker rule(s) and the page will load as expected.