Monster Mash

Image © Zynga
Goal Information
Requirements
 Level 10
Release Date
October 14, 2011
Description
I have a pretty big family. You know what they say? A blood sucker's born every minute.
Mission from
Vlad
Tasks
Ask friends for 30 Pumpkin Seeds
( 90 Cash)
Reach Monster Pop of 3500
( 105 Cash)
Unlock Witch Expansion
Rewards
Item
Unlock Witchwart Academy
Goal Completion
Description
I'm making you an honorary member of my family! Thanks for sticking your neck out for me!
Questline
Monster Mash is a Goal in CityVille. It is one of the goals in Act 1 of

 Happy Halloween!.
Q: How can I unlock the Witch Expansion?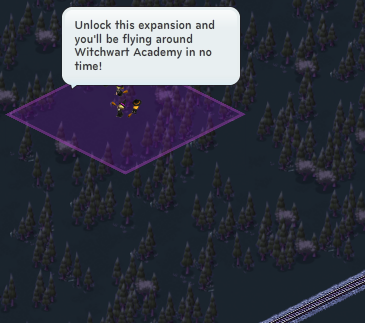 A: You have to expand up to that point and place an expansion where you see the witches.
Q: I already have a check mark for the Witch Expansion, what does that mean?
A: This means that you have already expanded to the required location on map, congratulations! You do not have to do anything else to complete this requirement.