Mint Your Success is a goal in CityVille.
Mint Your Success

Image © Zynga
Goal Information
Description
Place my ritzy decoration in your rich city.
Hints
Let's get that Mint placed in the city! It's a real symbol of success!
Mission from
Edgar
Tasks
Have a Mint placed in your city
Have 2 Skyscraper Condos
Rewards
Energy
 2 Energy
Questline
Requirements
Edit
Have two Skyscraper Condos.
Put a Mint in the city and finish building.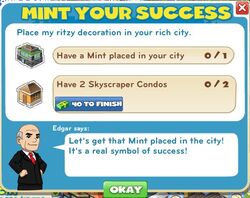 Ad blocker interference detected!
Wikia is a free-to-use site that makes money from advertising. We have a modified experience for viewers using ad blockers

Wikia is not accessible if you've made further modifications. Remove the custom ad blocker rule(s) and the page will load as expected.