Mansion Move-In!

Image © Zynga
Goal Information
Requirements
 Level 50
Release Date
December 9, 2011
Description
Oops! I forgot to bring you a house warming gift! But at least I voted for you! Does that count?!
Mission from
Sam
Tasks
Place Governor's Mansion
Complete Governor's Mansion
Rewards
Coins
 100,000 Coins
Energy
 15 Energy
Goal Completion
Description
Now that you're all settled in, I say we throw a big party to celebrate your victory and your new home!

Mansion Move-In! is one of the Goals in CityVille.
Sam says: "Now that you've defeated Krunsch in the big election, let's move you into your new Governor's Mansion!"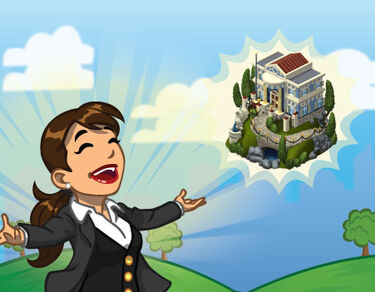 City is moving up in the world with its new Governor's Mansion!


Player loved the Governor's Mansion but they particularly loved the lobby area. It looks like they may have a job as a lobbyist in their future.
Ad blocker interference detected!
Wikia is a free-to-use site that makes money from advertising. We have a modified experience for viewers using ad blockers

Wikia is not accessible if you've made further modifications. Remove the custom ad blocker rule(s) and the page will load as expected.