Make Your City Wonder-ful!
Comments

3
8,553pages on
this wiki
Make Your City Wonder-ful! is one of the goals in CityVille. It requires the completion of the three Quests:

 Wonders Of The World!

 Upgrade Your Wonder! and

 Wonders Never Cease!.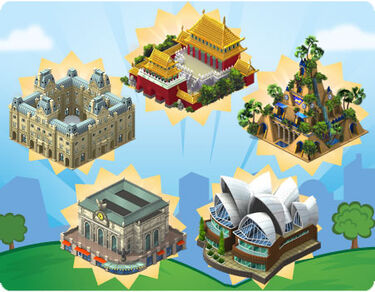 Choose your first Wonder and then you have to wait 7 days to unlock the next one, or pay

 60 Cash. Here is a list of each of the Wonder Buildings needed for collecting materials. This is a list of the New Wonders.
The building materials needed are Blueprints, and can be White, Red, Green, Purple, Gold or Orange.
Starting Dialog
Edit