MJ Fan Club

Image © Zynga
Goal Information
Requirements
 Level 6
Release Date
November 17, 2011
Description
I'm going to working on those moves for weeks! With practice, maybe I'll be the next Michael Jackson!
Mission from
Sam
Tasks
Ask friends for 2 MJ Posters
( 15 Cash)
Start 5 flash mobs
( 50 Cash)
Collect from 30 Residences
( 45 Cash)
Rewards
Item
MJ Hot Air Balloon
Goal Completion
Description
The Immortal Tour was a perfect fit for your city! It was such a fun event and a great tribute to the King of Pop!
Questline

MJ Fan Club is one of the goals in CityVille during MJ's Immortal Tour Event.
Sam says: "You're not a true MJ fan until you have all the albums and all the collector's items! Let's see what we're missing!"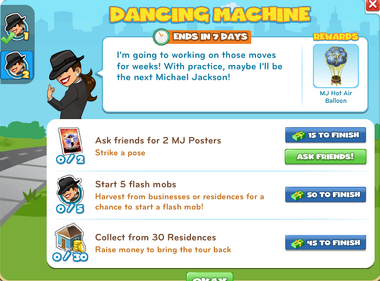 Task 2 Hint: Harvest from businesses or residences for a chance to start a flash mob!
Note: Flash Mobs can be hard to notice, but you don't need to see or click them to get credit. (See picture in gallery.)
City is moonwalking to see the Immortal Tour!


Player spent most of the show shouting I'm bad over and over again. This was most likely in reference to their singing and dancing skills.
thumb|400px|right
Ad blocker interference detected!
Wikia is a free-to-use site that makes money from advertising. We have a modified experience for viewers using ad blockers

Wikia is not accessible if you've made further modifications. Remove the custom ad blocker rule(s) and the page will load as expected.