Luxury Shopping!

Image © Zynga
Goal Information
Description
Send the movie star on a shopping spree!
Hints
Bella Bennett is really into glamour! Hint: Sam has a Cosmetic Store! You can find boots in handbag, sunglass, and shoe stores!
Mission from
Sam
Tasks
Collect from any 40 Businesses in your city
( 60 Cash)
Send Buses to any neighbor's Cosmetic Store 5 times
( 25 Cash)
Gather 1 Boot from the Designer Collection
( 25 Cash)
Rewards
Item
Unlocks Artichoke
Questline

This goal has been removed as of September 7, 2011.
Luxury Shopping! is one of the goals in CityVille.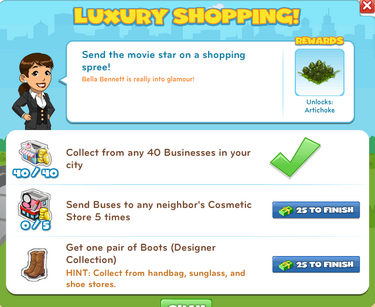 Ad blocker interference detected!
Wikia is a free-to-use site that makes money from advertising. We have a modified experience for viewers using ad blockers

Wikia is not accessible if you've made further modifications. Remove the custom ad blocker rule(s) and the page will load as expected.