Let's Go Sledding!
Comments

22
8,483pages on
this wiki
Let's Go Sledding!

Image © Zynga
Goal Information
Requirements
 Level 25
Release Date
December 17, 2011
Description
The Stumpfords head on down to the park, and sled the day away!
Mission from
The Stumpfords
Tasks
Ask for 16 Sleds
( 64 Cash)
Build a Snowman House for the Stumpfords
( 130 Cash)
Collect 80 Winter Clothes from Businesses
( 160 Cash)
Rewards
Item
Sledding Hill
Goal Completion
Description
Shannon proved she's the fastest Stumpford! I'm just glad my little snow angel's head is feeling better!
Let's Go Sledding! is a goal in CityVille. It was released on December 17, 2011.
Walt says: "We had quite the snow storm last night! Come on, kids! Let's go to the park so your ol' Dad can give you a sled-ucation!"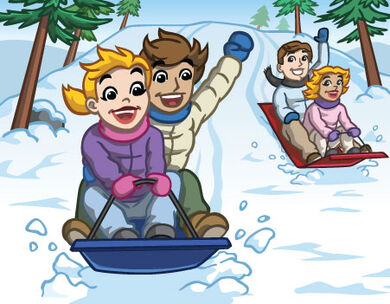 Task 3: Collect from businesses gives a 50% chance of dropping winter clothes.