King of the Seas!

Image © Zynga
Goal Information
Requirements
 Level 20
Release Date
January 13, 2012
Description
Your port is pretty big but it's not big enough for this ship! You're going to need a port that's fit for a king!
Mission from
Dan
Tasks
Have a Level 3 City Port
Unload tourists from King of the Seas 10 times
( 50 Cash)
Collect from 2 Hotels
( 60 Cash)
Rewards
Item
 Vacation Rental
Goal Completion
Description
Congratulations! You added and upgraded your City Ports and your shipping industry is thriving!
Questline

King of the Seas! is a goal in CityVille.
Dan says: "A top cruise line wants to make port in your city! You need room to dock their King of the Seas ship!"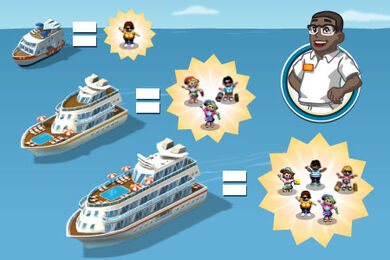 Task 1 Hint: The fully upgraded City Port unlocks the King of the Seas!
Task 3: Collect from any Hotel, Sailboat Hotel, or Haunted Hotel.
City is running a tight ship and upgrading their City Ports!


Player has always heard that loose lips sink ships but is alarmed that their lips could actually have that much control over the fate of a large sea vessel.
Ad blocker interference detected!
Wikia is a free-to-use site that makes money from advertising. We have a modified experience for viewers using ad blockers

Wikia is not accessible if you've made further modifications. Remove the custom ad blocker rule(s) and the page will load as expected.