Japanese Juggernaut

Image © Zynga
Goal Information
Requirements
 Level 30
Description
I'm going to cement my legacy by designing a gift to you inspired by a famous media company in Japan!
Mission from
Frank The Architect
Tasks
Collect 6 times from the Golden Palace
( 25 Cash)
Collect from a City Dojo 3 10 times
( 30 Cash)
Collect from any Japanese Business 20 times
( 20 Cash)
Rewards
Item
 Mugatu Media Inc
Goal Completion
Description
Wow, my new media center is getting a lot of attention and my career is sky rocketing! I can't believe it!
Questline

Japanese Juggernaut is a Downtown, Lakefront, Alps, and normal City goal in CityVille. It is the third goal of Act 2: Part 1 of the

 Welcome The World! Saga.
Frank The Architect says: "I would love to design something for your city that shows my parents that their son hasn't forgotten where he came from!"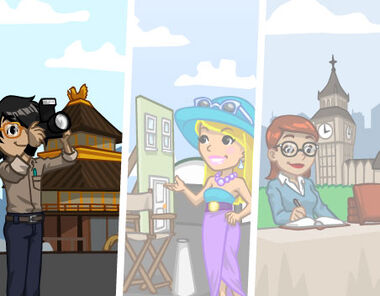 City is welcoming Japan to their city!


Player is very excited to start taking karate lessons. Although, they are less excited about the prospect of getting kicked in the face by a barefoot stranger.
Ad blocker interference detected!
Wikia is a free-to-use site that makes money from advertising. We have a modified experience for viewers using ad blockers

Wikia is not accessible if you've made further modifications. Remove the custom ad blocker rule(s) and the page will load as expected.