Jail Museum!

Image © Zynga
Goal Information
Requirements
 Level 70
Release Date
January 12, 2012
Description
Talk about a tourist trap! If you miss the boat back to the mainland, good luck swimmin' back to shore!
Mission from
Captain Rusty
Tasks
Place and Complete City Jail
( 10 Cash)
Collect from City Jail 2 times
( 55 Cash)
Rewards
Coins
 25,000 Coins
Goal Completion
Description
I've seen a lotta Jail Museums in my time and this is the best one I've ever visited, bar none!
Questline

Jail Museum! is a goal in CityVille. It started on January 12, 2012 and ends on January 30, 2012.
Rusty says: "Land ho! There she is! The old Jail Museum! Come on, let's sail over to her and take a look around!"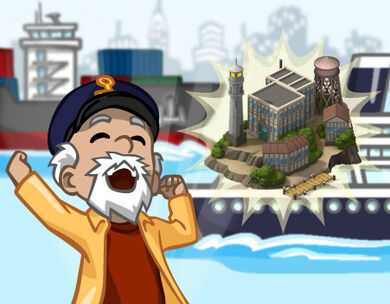 City is serving some time at the Jail Museum!


Player ate their last meal at the Jail Museum today. Let me rephrase that. They ate their most recent meal at the Jail Museum. It was a turkey club sandwich.
Ad blocker interference detected!
Wikia is a free-to-use site that makes money from advertising. We have a modified experience for viewers using ad blockers

Wikia is not accessible if you've made further modifications. Remove the custom ad blocker rule(s) and the page will load as expected.