Honeymoon Sailboat
Comments

20
9,924pages on
this wiki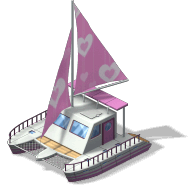 The Honeymoon Sailboat is a vehicle that is sent from the Sailboat Pier. Depending on the route chosen, it will take up different amounts of time and fuel. There are a variety of rewards. It takes

 2 Energy to unload.
Each time you send the Sailboat, you must choose a destination. Repeatedly collecting from the same route gives you Mastery levels. Getting 3 Stars on a route will give you a reward item. Refer to the chart for route and reward information.
People can post Sailboat trips on their walls. Clicking on them will create Tourists in the neighbor's city when the sailboat is collected from. Neighbors will visit your city if they click on your posts, and Experience will be dropped from a plane. It's

 10 XP for each trip. Clicking on a neighbor's boat that's left the pier will speed its return.
Sailboat Missions
Edit