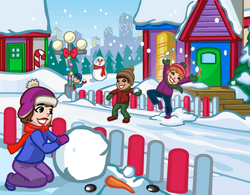 Holiday Town Expansion: "Expand to and build the first 3 areas of holiday town to get amazing gifts in the 4th area."
The location of expansions will vary. This was released during the Holiday Event (2011).
The completion of these expansions count as "Holiday Gates" of tasks in the

 Save The Holidays! saga.
If the expansions are present on your city map, you can complete the tasks towards unlocking them without buying the expansions, but in order to get the rewards you must purchase the expansions.
Many players experienced problems with their Holiday Town expansions not appearing in their cities. As a result, Zynga placed the missing expansions in these players' inventories. Players can only place these 12x12 expansions on empty parts of their cities or need to purchase expansions and clear them before placing. Once these expansions have been placed, they cannot be moved until the tasks are completed.
Holiday Town Square
Edit

Expand here to start The Giving Tree goals! Help Santa decorate the Giving Tree and complete Holiday Town Square for 50% bonus!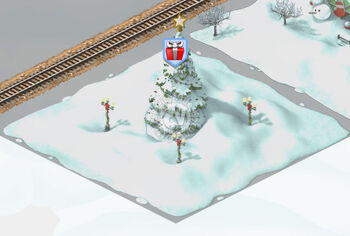 Unlocked message: The Giving Tree is spreading its warmth and cheer upon Holiday Town and brightening everyone's spirits!
Unlocked Goals:

 Holiday Town! →
 Star Power! →

 Holiday Havoc! →

 On Pins and Needles
I'm A Tree Hugger!


And decorator! Holiday Town, here we come! Don't you want to congratulate me?!
Mrs. Claus' Knitting Society
Edit

Save the Holiday Sweaters! Help Mrs. Claus build her Knitting Society for 4,500 max population!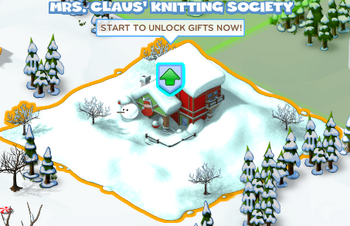 Unlocked message: The holiday sweaters have been saved! Mrs. Claus is knitting up a storm so that everyone is bundled up for the holidays!
I'm A Knit Wit!


Mrs. Claus says so! Next stop, Holiday Town! Come on, congratulate me!
Santa's Sleigh
Edit

Help Santa repair his broken
sleigh
so that he can deliver gifts of permits and energy to your citizens!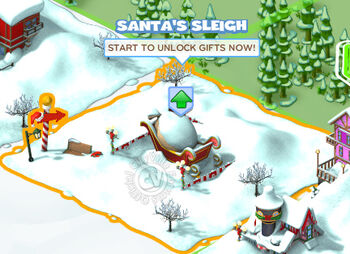 Unlocked message: Santa's Sleigh is repaired and Santa is ecstatic. All preparations are finished to deliver presents and cheer across the world!
I Need To Get Sleighed


Good thing I fixed Santa's sleigh! That's worth a few congratulations, right?!
Holiday Town
Edit
Unlock the other 3 Holiday Areas: decorating the Giving Tree, building Mrs. Claus' Knitting Society, and repairing Santa's Sleigh to unlock Holiday Town!
Unlocked message: Santa, Mrs. Claus, and the elves cannot thank you enough for all your help! They have decided to take up residence in City!
I Run This Town!


Player just unlocked Holiday Town by decorating the Giving Tree, building a Knitting Society, and repairing Santa's Sleigh! Congratulate them and get free energy.
Ad blocker interference detected!
Wikia is a free-to-use site that makes money from advertising. We have a modified experience for viewers using ad blockers

Wikia is not accessible if you've made further modifications. Remove the custom ad blocker rule(s) and the page will load as expected.