Holiday Town!

Image © Zynga
Goal Information
Requirements
 Level 9
Holiday Town Square
Release Date
December 14, 2011
Description
Let's shake off the Giving Tree's winter frost and decorate the tree with ornaments and candy canes!
Hints
Complete these 4 goals to unlock the decorated Giving Tree!
Mission from
Santa
Tasks
Ask friends for 12 Ornaments
( 36 Cash)
Harvest 30 Candy Canes
( 90 Cash)
Collect 20 Holiday Lights from Businesses
( 60 Cash)
Rewards
Energy
 2 Energy
Item
 2 Zoning Permit
Goal Completion
Description
The Giving Tree looks beautiful! Complete 3 more goals to have it fully decorated in your city!
Questline
Holiday Town! is one of the goals in CityVille during the Holiday Event (2011). To unlock these goals, you need to unlock to "Holiday Town Square" expansion of Holiday Town.
Santa says: "Holiday Town is missing one thing. The Giving Tree! Complete these 4 goals to unlock the Giving Tree worth a 50% bonus!"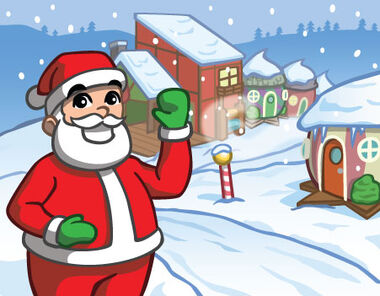 Task 3: Harvest businesses for a 40% chance of collecting Holiday Lights!